Sano's employees say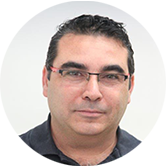 Ronen Targan
I started working at Sano in 2013 as an administrator at the logistics centre. Before I arrived to Sano I worked for two companies as a logistics manager, so I knew that if I started as an administrator at Sano, I would have a chance to progress in the future. Despite the geographical distance from my home, I knew that I have a good opportunity and I knew then that Sano would become my second home.
As part of my job today, as a head of the Logistics Centre, I am required to supervise the employees of the Logistics Centre and ensure that logistical processes in the supply chain are well executed. The main goal of my position is to maintain a high standard of service for the various departments and end customers. During the course of our work we encounter many challenges and constantly act to improve our performance and management capabilities. At the same time we are working on future complex and challenging projects.
On a personal level, I am constantly evolving here. Working with the different people teaches us to be tolerant and containing and there is a very strong sense of 'all for one'.
What does Sano mean to you?
At work I feel that I am with my family. There is a mutual support here, it comes from the top and through to the end employee. I am always amazed and excited by the enlistment of the employees in every task. I am at my highest professional level and see myself in Sano for many more years to come.
X
Have you got tips for us?
Do you have a helpful tip and want more people to enjoy it? Send us to it and we will make sure to publish it
X
Got a problem?
If you have a problem related to cleaning and maintenance of the house - we would love you to share with us. Understanding needs and everyday problems will help us develop effective solutions for you.