Sano's employees say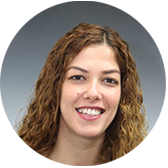 Karin Gambshaw
I started working at Sano in 2010, after completing my master's degree. It was very important for me to "start from the bottom" and get to know the field well. I started as an agent and for a year and a half I was responsible for clients, who I met with on a weekly basis. Within the framework of this work I was responsible for ordering, collecting and arranging the merchandise on the shelves. In addition, I managed stewards in large retail chains in order to increase sales in every store. After a certain period I progressed and became a Trade and Marketing Manager (TM). As part of my current job, I make purchase orders for visibility aids that are used on the sale floors, I prepare network newsletters according to the monthly offers, I train new agents, and more.
The work at Sano equips me with a great toolbox; I gain extensive experience in the retail industry and create many relationships at my job.
What does Sano mean to you?
The trading family is like an elite commando unit. We all have the same DNA, and we are very connected to each other. There is no one who does not help or want your best. It is fun to get to such a place. It has long been a second home for me, not a place of work. I'm here until the pension.
X
Have you got tips for us?
Do you have a helpful tip and want more people to enjoy it? Send us to it and we will make sure to publish it
X
Got a problem?
If you have a problem related to cleaning and maintenance of the house - we would love you to share with us. Understanding needs and everyday problems will help us develop effective solutions for you.