Sano's employees say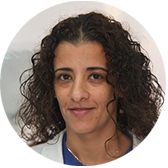 Orit Shoker
I started working at Sano 12 years ago in the development department. As soon as I
arrived in Sano I felt the ingathering of the exiles. Sano is a large company that employs
a wide range of people in different positions and we all feel like one big family.
Today, I work on the development of innovative products, mainly in the field of detergents. Within the framework of my work I manage a number of projects in parallel. The development work is very interesting, from the initial thinking about the product, through the execution and the assembly of the unique formulas, until the final decisions are made and the product is launched to the consumer.
Within the framework of my work, there are many opportunities for learning, developing and deepening the professional knowledge. The working environment is very supportive and very challenging, and there is not a dull moment. The employee has a lot of freedom and is given the chance to express itself, full support, independence and teamwork. The position further includes participation in large conferences and congresses abroad.
It is fun for me to get to work; I always come out with a smile and a sense of satisfaction. Every product that we develop and then see on the shelves at the points of sale - is a great pride! Last year we developed the 'Mix & Wash' laundry gel, which won the product of the year award. The award is given to innovative products and is a testament to our success, which is the result of a long, precise and challenging work.
What does Sano mean to you?
Sano is home. It is large and warm family. The pride of a unit, a good atmosphere. I continue to strive for my professional development and of course I see myself here until the pension.
X
Have you got tips for us?
Do you have a helpful tip and want more people to enjoy it? Send us to it and we will make sure to publish it
X
Got a problem?
If you have a problem related to cleaning and maintenance of the house - we would love you to share with us. Understanding needs and everyday problems will help us develop effective solutions for you.